Silk Flowers
DLV continues its jackpot line with Silk Flowers multigame featuring four jackpot levels.
| | |
| --- | --- |
| 4 jackpot levels | Game selector |
Silk Flowers bonus game is randomly triggered after any main spin in reel games or after the second deal in the poker game. The player is informed about winning the bonus game by a congratulatory window. All winnings are added to player's credit meter and can be gambled further.
After entering the bonus game, the player is awarded Pink jackpot level and 1 to 3 lives. Higher total bet increases the number of lives and the chances of winning higher jackpot levels.
The game starts with congratulations on winning Pink level and then it is time for the player to try their luck on the Silk Road of the remaining jackpot levels – Blue, Green and Yellow.
To complete a level the player needs to guess, in the allotted time, which of the 5 vases conceals a magic flower of luck. This can be accomplished by making choice either using Hold 1…Hold 5 buttons on the keyboard or by touching a vase on the touchscreen. If successful (a pink flower appears), the player needs to do the same on the next shelf of the magic armoire.
If unsuccessful, the player loses 1 life (gold coins on the right). If the player still has gold coins (lives) left, the game continues.
Having found the magic flower of success on all three shelves, the player wins a jackpot level. At the same time the previous level completed becomes unavailable, because the player moves one level up.
The other levels are completed the same way.
The bonus game continues until the player reaches the upper shelf of the last (yellow) level or until all lives are lost.
For each selection the player is given minimum 3 seconds before automatic random selection of the same duration is initiated. During automatic selection the player still can make choice. When automatic selection time is over, the program will offer its choice.

Games:

| | | | | |
| --- | --- | --- | --- | --- |
| | | | | |
| Kin House | Symphomagic | Cranky Flavor | Bear's corner | Mighty Zoo |
| | | | | |
| Amecar Force | Lucky Search | Eldario | Hidden Charm | Glass Fruits |
| | | | | |
| --- | --- | --- | --- | --- |
| | | | | |
| Golden Bijou | Filibuster's Ghost | Mushroom Fable | Double Rich | Fruitiles |
| | | | | |
| Brick Fruits | Star Jong | Chambohua | Cai Shen | Lucky Witch |
| | | | | |
| --- | --- | --- | --- | --- |
| | | | | |
| Hong Long | Kote Mate | Lucky 7 | Draw Poker | Burning Fruits |
Available in: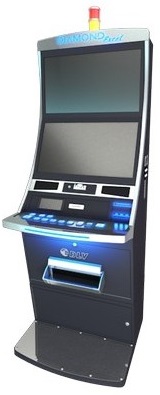 DIAMOND EXCEL