• 2012 October
During its first participation in G2E Las Vegas, DLV stood out with its two product lines: jackpot and Diamond Games Premium multigame machines.

DLV - slot machine, multigame and jackpot system manufacturer, for the first time participated in Global Gaming Expo in Las Vegas and was positively received by the visitors. The success of the company lies in its good products and in the experience gained while working in Europe, South America and Asia.
During the show, DLV presented its two product lines. On one side, the company showed its progressive jackpot system Gauya Quest, exhibited in chromed DWS cabinets, which can also be operated as a standalone unit.
Another progressive jackpot line - Jewel Jackpot, was presented at G2E together with its sequels - Jewel Jackpot II and, a novelty, Jewel Jackpot III. In contrast to the previous versions with 5 and 9 pay lines, Jewel Jackpot III features 5, 10 and 20 pay lines and such game as Mirmillon with payment in all directions.
On the other side, the company also showcased the versions III, IV, V and VI of its Diamond Games Premium line, the last sequel being a novelty on the show with 5 new games and various bonuses.
[DLV]
Latvian company produces game software and casino equipment. DLV was established in 1994 and since then has been increasing its production capacity, working with the most up-to-date technology. As a result of this strategy, the company has strengthened its position in the local market and has expanded its presence to emerging foreign markets. Currently, DLV machines are commercialized in 33 countries of Europe, South, Central and North America.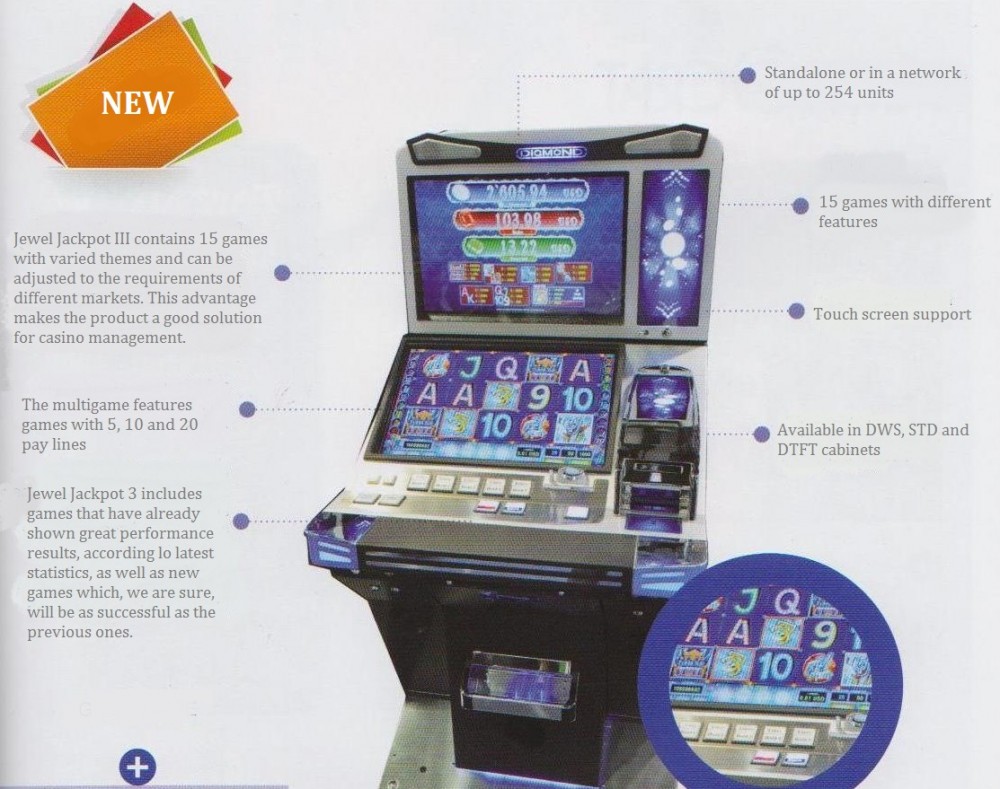 [LATIN AMERICA]
In Latin America DLV is represented by its branch office in Peru (DLV Peru). Both product lines – Jewel Jackpot and Diamond Games Premium are present in the region and already are very successful there which encouraged DLV to release their sequels – Diamond Games Premium V and VI, and Jewel Jackpot III, both with new games and bonuses