• 2008 November
DLV Diamond cuts market slice
Latvia's DLV expands reach into wider European markets with new multi-game slot.
Latvia-based operator, distributor and manufacturer, DLV, is a well renowned company within its domestic market that is currently seeking to realize its ambitions in international markets. To help achieve this goal, DLV appointed International Sales Manager, Kai Prengel, in August, with a view to capitalizing upon the experience of the former Mazooma Gaming executive.
Charged with remit to expand DLV's reach into European gaming markets, Mr. Prengel has identified a number of key markets in which DLV can immediately take action, and those that through homologation the company can exploit in the future. "We have commenced upon our largest programme of exhibition appearances, having previously attended just the ICE show in London and the Kiev exhibition," stated Mr. Prengel.
"This year, we have exhibited at shows in Romania, Hungary, Ukraine, Bulgaria and the UK and visited Enada in Rome, Fer Interazar in Madrid as well as the SurExpo in Poland."
Established in its home market since 1994, DLV holds a general license in Latvia and currently operates 35 Blue Diamond gaming arcades, with around 850 casino-style machines within its estate. In Ukraine, the company also operates under the Diamond brand with 600 machines in operation in its six own gaming halls and with partners. The company has assembled its own gaming machines since the inception of the company, but in 2007 embarked upon creating in-house software, which it has launched successfully in its own locations and sold into markets including: Latvia, Ukraine, Ireland, Romania, Bulgaria, Turkey and Austria.
Despite the fact that DLV now comprises over 300 employees, the structure of the company has remained compact. The company's three founders, Mihail Volokotkin, Igor Molchanov and Igor Denisov, maintain a hands-on role in the operation of the business, which Mr. Prengel believes is just one of the positive attributes of DLV. "DLV is able to react very quickly to both market and customer demands," said Mr. Prengel. "Diamond Games is our own platform, cabinet and multi-game development, and furthermore in cooperation for some markets with Octavian International, Merkur Gaming and JVH gaming, we have a very competitive product for the global market. One of my tasks is to now find distributors in our key markets to handle the sale and servicing of our products. At the same time we are looking to establish the brand in wider circles in 2008-09."
DLV is No.2 in the Latvian gaming market, a position it is looking to grow with the expansion of its production facilities and international market penetration. "The company is rapidly expanding," confirmed Mr. Prenge!. "The operations, games, servicing capability and research and development is continuing to increase, while at the same time the recognition of our machine performance is also gaining momentum in countries such as Romania and Bulgaria, where the games are achieving excellent results. We look to build upon this success both now and at the forthcoming trade events."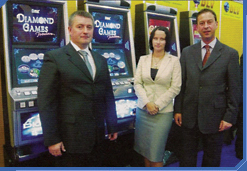 On the photo: DLV's Mihail Volokotkin, Lina Malahova and Kai Prengel, pictured with the company's Diamond Games Premium multigame machine at the Kiev Entertainment exhibition.