• 2013 January
DLV to present a new Hybrid cabinet at ICE 2013
(UK, exclusive Yogonet.com).- DLV international marketing manager, Oksana Susinska, granted an interview to Yogonet.com before the beginning of the new ICE show edition. She talked about her expectations and also about the products that the firm will present in London next month. "For our company, ICE exhibition is of high importance and we expect that everything will be great there", she said.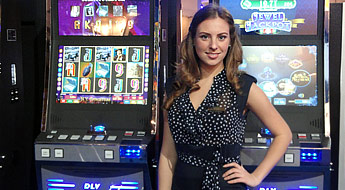 What are your expectations in regard to ICE?
We think it's great that ICE is held in the beginning of the year, thus helping us define which lines to pursue in our business activities during the year. This year's show is sure to be full of interesting events, as ICE manages to bring together a great number of gaming industry participants.
Do you think the new venue will influence the development of the show?
We were used to the old exhibition center "Earls Court", and were happy to come there every year, as it was already so familiar. However, judging by plans of the new location provided by the organizers, they have thought through all the details, so that the exhibition would develop the way it always does. So I think that the change of exhibition location to "Excel" should not affect the development of the show; ICE Totally Gaming Show will continue to be one of the largest and most important events in the industry and we are, of course, very happy to be part of it! For our company, ICE exhibition is of high importance and we expect that everything will be great there.
What products will you present? What are their main features?
At ICE 2013, we will for the first time present the new cabinet - Hybrid, which is most recent DLV's achievement. The machine was designed by DLV's creative engineering team in conformity with the latest gaming technologies.
Besides that, we will showcase the latest product in our jackpot line - Jewel Jackpot 3, which, compared to previous versions - Jewel Jackpot and Jewel Jackpot 2, features 15 games and 5, 10 and 20 paylines.
What are your main markets in EMEA? What goals will you pursue this year, especially in Europe?
Our main market is Latvia where our head office is located. However, all markets are equally interesting to us. We are currently working in various countries of Europe, South America and Asia, and hope that ICE will contribute to our expansion across these regions.