• 2013 June
Shining Evolution
Last month DLV visited G2E Asia with a new cabinet and multigame package, as well as an Asian-themed progressive jackpot.
DLV's distinctive range of Diamond cabinets is becoming an increasingly familiar sight on Asia's slot floors.
The Latvia-based slot manufacturer made its breakthrough into the continent in the early 2010 with the first of several installations in Cambodia. More recently, it has expanded its presence to the Philippines. And, of course, DLV has become a regular participant in G2E Asia in Macau, assured that it is only a matter of time before the city's casinos get wise to the virtues of its versatile and cost-effective multigame products.
Under the spotlight at the DLV stand during the last month's show at Venetian Macao was the company's latest cabinet Diamond Hybrid featuring two 24" screens, TITO and hopper support, as well as four speakers and subwoofers providing for high-quality stereo sound.
The company also unveiled new multigame package - Diamond Games Ultra, following the successful previous Diamond Games Premium multigames series. "This one has a completely new interface, it features 25 games and is available in Diamond Hybrid machine," explains DLV's marketing manager.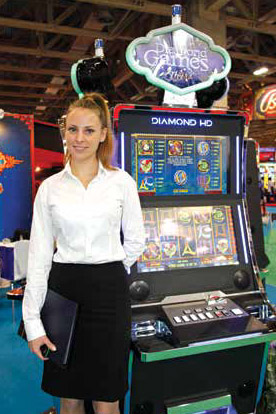 DLV Marketing Manager
DLV also showed a sequel to its progressive jackpot system that has enjoyed considerable success in Cambodia and worldwide. Jewel Jackpot 3, in contrast to Jewel Jackpot and Jewel Jackpot 2 with only 10 game, has a selection of 15 variously themed games with 5, 10 or 20 pay lines.
As part of the company's ongoing effort to expand its regional presence, DLV also showcased the Asian-themed Dragon Jackpot. This one is one of the company's two new progressive jackpots, along with the four-level baseball-themed Vollinstars. Both, Dragon Jackpot and Vollinstars, were presented at G2E Asia in DIAMOND STD machine equipped with two 22" screens.
DLV, having its own operation in its home market, has good insight into the needs of smaller gaming operations, particularly into those concerned with operation and cost flexibility.
"Latvian gaming industry is a highly competitive environment," explains DLV's chairman Mihail Volokotkin, "we have to go head to head with major European manufacturers and operators and that is how we have learned to adapt our products to evolving market conditions". He stresses that "In addition to the proven game mathematics, clear sound and attractive graphics of our products, we have developed a culture of innovation and market-responsiveness that allows us to hold our own against big manufacturers."
DLV prides itself on the competitive pricing and technical reliability of its products, and its quickness and efficiency in responding to clients' needs. The company has come a long way since it was established in Latvia in 1994. Its internationally certified machines are now purchased in 33 countries in Europe, Asia and Latin America.