• 2016 June
"DLV is more aggressively entrenching its position in Peru"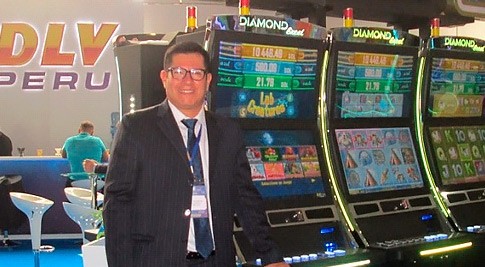 (Exclusive for Yogonet.com).- Carlos Sotomayor from DLV Peru revises Peru Gaming Show 2016 edition and tells about company's ideas relative to organization of their own events.
Which new products from those you presented at PGS - Diamond Excel machine and Lab Creatures and Diamond Games Ultra 3 multigames – were most demanded by Peruvian operators? Which product generated most queries?
We had worked out a strategy months ahead of the event and, as a result, all machines destined for PGS were already coming with orders. The idea was not only to present our new Diamond Excel cabinet, but also Lab Creatures and Ultra 3 multigames and all turned out to be in great demand. As a result of a good strategy, we could sell many of our DWS and DTFT cabinets. The truth is that we are very satisfied with having attained such great results. We really put ourselves on PGS record!
"We were advancing quietly and have earned an important name in the industry".
In his speech at the opening of PGS cycle of conferences, Manuel San Roman informed that Mincetur drafted a law to regulate online sports betting and mentioned that they were expecting to present it to the Congress till the end of the year. The proposal is that only companies domiciliated in the country could operate and only bets, not casino games, would be regulated. What business model would be viable for you, considering you are an operator in Latvia and have DLVBET? Are you looking into the option of a combined offer featuring both online and land-based games in Peru? Why?
Obviously, it would be interesting for us to complement both business models and to have this added value could strengthen our offer even more. Our experience as operator and provider of slot machines serves as a support when we have to make this kind of decision and we are currently evaluating the possibility of entering the segment at some point.
Some companies choose to organize their own events, in addition to participating in traditional shows. Have you evaluated this possibility? Are you planning to do so? Why?
In the beginning of our operations in Peru, our priority was to consolidate the brand. We worked arduously not only to position the company, but to consolidate it, rendering qualitative services to our customers who have been becoming more demanding and, above all, to have in all senses a reliable product. We were advancing quietly and have earned an important name in the industry. Now we are doing it more aggressively, passing to the next important level of absolute consolidation. In this regard, we are analyzing new strategies of expansion, including organization of our own events.
What is company's work plan for the remainder of the year? What are your objectives for the second half of the year?
After obtaining great results at PGS, we are revising our objectives. Certainly, there will be a variation in our market share due to the increment in number of machines planned for the second half of the year. We are also drawing up a new work plan to guarantee effective fulfillment of objectives.