• 2013 May
"Operators were very satisfied with our products"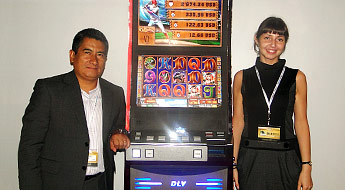 Maximo Leyva Canales, DLV Peru CEO and Julia Barbakadze, external relations coordinator, represented DLV at SAGSE Central America & Caribbean @ Panama.
(Panama, exclusive Yogonet.com).- DLV is focusing on Central America and the Caribbean. The company proved it by debuting as exhibitor at Caribbean Gaming Show and by returning to SAGSE Central America & Caribbean @ Panama for the second consecutive year. "It could quite possibly become one of the most important events of the global gaming industry", said marketing manager Oksana Sushinska when referring to Panamanian show.
- How was SAGSE Central America & Caribbean @ Panama for DLV?
For DLV those two exhibitions were quite productive, we could hardly complain about lack of visitors.
- What do you think about the show itself? How has it evolved in these eight years? What is your opinion about its new brand and the quality of the visitors?
Well, it was the first time DLV participated in the Caribbean show and the second time we took part in the show of Panama, so we can hardly judge about their development, we can only say that the show of Panama was much bigger than last year and it is obviously transforming into something bigger and quite possibly might in the course of time become one of the most important events of global gaming industry.
- What was operators' feedback regarding your products?
Operators, especially those of Caribbean origin, were very pleased with our products and appreciated our efforts in creating Vollinstars, a game with baseball theme - one of the most popular sports in the region.
The variety of the other games also earned positive response and became focus of many operators' attention.
- What can you tell us about the Central American and the Caribbean gaming industry? What could you perceive during the show?
This is something we never fail to notice at any show of the region – the undeniable potential of that enormous market with great possibilities for those who are ready to give their best and adapt to the needs of each country of the regions.